With the Kentucky Derby just days away, here's a look back at one of the superstars of the Triple Crown world of horse racing - the amazing Secretariat.

Secretariat was born on March 30, 1970. His sire was Bold Ruler, a Preakness winner, and his dam was Somethingroyal. Penny Chenery, Secretariat's owner, raced him in the distinctive blue and white checkered colors of Meadow Stable. Paired with his trainer, Lucien Laurin, his jockey, Ron Turcotte, and his groom, Eddie Sweat, they made up the team that would become famous, both in and out of the racing world. Secretariat had an impressive two year season, winning prestigious races such as the Champagne Stakes, the Laurel Futurity, and the Garden State Futurity. Such accomplishments earned him the title of 1972 American Horse of the Year, and the Eclipse Award for American Champion Two-Year-Old Male Horse.
But it was Secretariat's three-year-old season that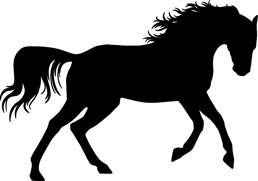 sets him apart as a "super horse." Secretariat won the Kentucky Derby by two and a half lengths, setting a record for the track and running each furlong faster than the previous one, accelerating through the entire race. Secretariat then went on to victory in the Preakness, the second "jewel" of the Triple Crown, again winning by two and a half lengths.
But perhaps his greatest win was the Belmont, the grueling 1-1/2 mile final test. Secretariat and Sham, his longtime rival, started out quickly, trading the lead several times. But as Sham faded, Secretariat only seemed to get stronger, winning the race by 31 lengths and setting a track record of 1½ miles in 2:24. That record still stands today. Secretariat, affectionately known as "Big Red" for his striking chestnut color, became the ninth Triple Crown winner in history and the first in 25 years.
Will this Saturday be the start of another Triple Crown dream?
As always, check out our website and take a look at our products so we can help you spend less time working and more time doing what you love to do, riding!