Time To Ride was created by the American Horse Council's Marketing Alliance to encourage the growth of the U.S. horse industry. Their sixth annual National Meet A Horse Day on Saturday, July 20, 2019, is an opportunity to introduce a new generation to the wonder of horses. And you can be a part of it.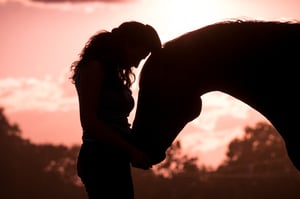 Many barns are hosting an Open House and planning special activities to attract parents and children as an introduction to the Time To Ride lesson program and to meet the horses and staff. "Horseback riding can be enjoyed by the whole family," said Molly O'Brien, Time To Ride Program Manager. "National Meet A Horse Day is a great opportunity to introduce parents and kids to equine facilities in their local area. While our focus is to encourage kids to learn about riding and horse care, this is a sport in which the whole family can participate."
To learn more about Time To Ride, please visit www.timetoride.org, email ttr@horsecouncil.org, or call 202-891-7971.
For trainers and barn owners, this is a great way to market your facility and/or training programs to a whole new group of potential clients. But before you put out your welcome mat, review this list for success.
Make sure that your barn's business insurance is in effect and will fully cover you for the event.
Make sure that you have plenty of business marketing materials, including flyers, brochures, business cards and, of course, a quality business web site.
Consider offering introductions and demonstrations of the styles of riding that you specialize in. Offer property tours if you are interested in new boarders.
Opt to provide refreshments at a barn open house to establish a friendly atmosphere. Offer small giveaways or a raffle for a free lesson.
Hosting an Open House at your facility is a great way to spread the word about your barn and your programs. And to give children and parents the wonderful opportunity to Meet A Horse.