While Veterans Day traditionally remembers the men and women who served in our Armed Forces, there are some four-legged heroes that deserve recognition as well. One of them was a horse named Reckless. A mare born around 1948, Flame (as she was originally known)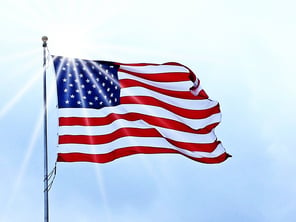 was out of a Seoul, Korea racehorse dam with some Mongolian breeding. In October of 1952, during the Korean War, the United States Marine Corps were in Seoul when Lt. Eric Pederson met a Korean stable boy, Kim Huk, who needed money to buy an artificial leg for his sister. At the same time, the Marines were looking for a way to carry ammunition to the front lines for the 75mm Recoilless Rifle, Anti-Tank Company of the 5th Marines Regiment, 1st Marine Division. Pederson gave the boy $250 of his own money and purchased the horse for the unit.
She was renamed "Reckless" by the Marines as a combination short-hand name of the Recoilless rifle and the bravery of those who used them. The small chestnut with a blaze and four white socks was closest to her primary trainer Gunnery Sergeant Joseph Latham and to Private First-Class Monroe Coleman, her primary caretaker. The horse was initially kept in a pasture near the encampment. But Reckless had a gentle disposition and soon developed such a rapport with the troops that she was allowed to freely roam about the camp and entered tents at will, sometimes sleeping inside with the troops, and even lying down next to Latham's warm tent stove on cold nights.
Like most new recruits, Reckless went through a version of boot camp – or "hoof camp" as it was known for her. Reckless quickly learned the battle survival skills and, after several trips carrying supplies and ammunition, she learned the route and was able to deliver supplies to the troops without the benefit of a handler. She was also used to evacuate the wounded. Enemy soldiers could see her as she made her way over dangerous terrain and up the steep mountain trails to the firing sites. "It's difficult to describe the elation and the boost in morale that little white-faced mare gave Marines as she outfoxed the enemy bringing vitally needed ammunition up the mountain, "Sgt. Maj. James E. Bobbitt recalled. Bobbitt recalled.
Reckless served in the military for more than nine months. She was the first horse in the Marine Corps to have made an amphibious landing. She was wounded twice in combat and given the rank first of battlefield corporal in 1953, and then a battlefield promotion to sergeant in 1954. Following the war, she was awarded two Purple Hearts, a Marine Corps Good Conduct Medal and was included in her unit's Presidential Unit Citations. She received other military honors as well.
Even though she was revered as a war hero, Reckless was favored by the Marines for another reason – her quirky personality. She hated to be ignored or hungry. She ate any food she could get her lips around – cake, Hershey bars, Coca Cola – and to be sure the Marines got the point, she ate poker chips, blankets and hats as well.
She was retired and brought to the United States after the war. In 1959 she gave birth to four foals in America and died in May 1968. A plaque and photo were dedicated in her honor at the Marine Corps Base Camp Pendleton stables and a statue of her was dedicated on July 26, 2013 at the National Museum of the Marine Corps in Quantico, Virginia. A memorial statue, recently created to honor Sergeant Reckless at Camp Pendleton, was dedicated on October 26, 2016.