If you watch HGTV, you've probably seen a show called "Love It or List It." It features homeowners who have lived in their cute, but often crowded or crazy floor plan home for several years, but now need a home that better reflects their current requirements. Two experts take on the challenge with a budget – one looks at how to make over the existing home, the other looks for a new home with all their requirements. Once done, the owners decide – love their old, but remodeled home or sell it and buy the new home.
What does this have to do with horse owners? Because probably at some point in the life of your barn, you've looked at it and wished it was configured differently – bigger stalls, more efficient layout, more light. Of course, you could sell your current barn ("List It") and just find one that is perfect for you. And, if that's what you want, Classic Equine Equipment is happy to help you design your dream barn.
But often your barn has boarders and/or a great location and you don't want to move. So consider setting a budget and consider just what remodeling you can do to make your current barn the barn of your dreams ("Love It"). Yes, this can still be a substantial investment, but the results can be well worth it the time and money. Here are eight ideas that will make a big impact on your barn.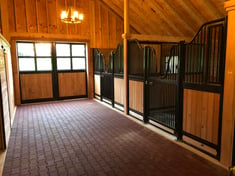 Remember, prioritizing what to remodel that will create the best change for you is step one of your plan. You don't need to do everything. Setting (and sticking to) a budget is step two.
Whether you ultimately want to "Love It" or "List It," Classic Equine Equipment can help guide you through your project. To see all we can offer, request our new catalog or schedule a design consultation today.