It's just about that time. - Summer is just around the corner and we are starting to spend countless hours in the hot sun riding horses at shows, rodeos, training in the arena or trail riding. For both kids and adults, a sunburn can be very painful and sometimes even lead to sun poisoning. If you want to keep your skin looking great, along with staying healthy follow some of these tips.

Remember Your Sunscreen
Don't head out on a ride without your sunscreen! For the best protection, use a sunscreen with a high SPF rating, and don't forget to reapply frequently. Make sure you cover areas including the back of your neck, face and nose. Those areas can be very sensitive when burnt.
To make sure you always have sunscreen on hand, consider keeping a bottle in your tack trunk or saddle bag. To make things even easier spray sunscreen is always an option. There are also travel size and keychain bottles available that are made for people on the go.
Your clothing can now protect you from the sun, too. When you're shopping for outfits barn chores or riding, take a look at their features – many are now UV-resistant or UV-protectant. While these garments may cost a little more because of this feature, it's a worthwhile investment, especially during the summer.
Top Off with a Hat
Whether you're teaching a lesson or working outdoors, adding a hat to your wardrobe can offer your skin additional protection from the sun. While baseball caps are great, try for a hat that is surrounded by a brim so you can protect your neck and face. The brim of your riding helmet offers you some protection, but you can also buy a helmet with a longer brim to get extra protection during sunny summer rides.
Moisturize
A quality moisturizer will go a long ways toward keeping your skin looking young and healthy. Moisturize your skin on a daily basis. It's also a great idea to use a facial moisturizer which contains sunscreen so you get dual protection.
Stay On Top of Your Skin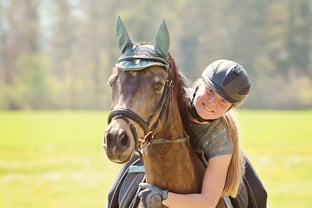 If you notice that you or your child's skin is changing, or if you develop questionable spots on your skin, make an appointment with a dermatologist to get things checked out. If you have moles or troublesome skin spots, make sure that they are promptly examined. Staying ahead of potential health issues can make treatment much more manageable if they do turn out to be anything serious.
All the time we spend outside as equestrians takes a toll on our skin and body, so make sure you give yourself the care it needs.