Preparing for spring weather means preparing for everything else that comes along with it.
Allergies
If you have allergies- this is when you'll feel it the most.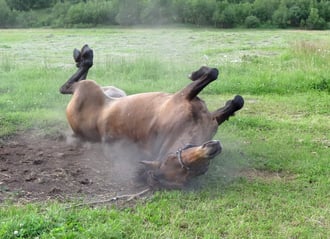 Grass, dust, mold, flowers, weather changes etc. – there are many things that can set off sneezing, coughing or watery eyes. Talk to your doctor about antihistamines that can help alleviate some of the symptoms. Also remember, horses can suffer from seasonal allergies as well.

Shedding
Nothing says spring more than your hairy horse suddenly becoming not so hairy. Every rider can relate to shedding season – the rug that is left beneath your horse after being groomed, endlessly running a comb over your horse with no end of hair in sight, and don't forget the hair that follows you home no matter how hard you try to leave it at the barn.
When it comes to shedding your horse out, we advise that you brush, ALOT. Also use a light jacket or pullover to keep as much hair off of you as possible. Keep a lint roller nearby for good measure and try to keep the hair outside for birds to use in their nests.
"Up" Horses
Does your horse feel like he's on springs when you first get on him after a long winter? Maybe you're lucky enough to have an indoor arena but haven't quite kept up with your riding routine this winter. Regardless of the reason, know that many other riders are also trying to ride out the "spring sillies" and are hoping that their horses settle back into their work out routines – soon!
Spring Shots
Typically, spring is when most of the necessary shots for your horse are due – tetanus, rabies E/W Equine Encephalitis, flu/rhino, etc. Which ones you give depend on where you and your horse live, how much traveling you do etc.. Check with your veterinarian on what they recommend for your horse. Whether you chose a few or a whole flight of vaccinations, they can be expensive. Be sure to budget wisely.