'Twas the night before Christmas, when all through the barn,
All the horses were resting, well-fed and warm.
Their stockings were hung this time of year.
In hopes that apples and carrots soon would appear. The barn Christmas tree lights were all turned out,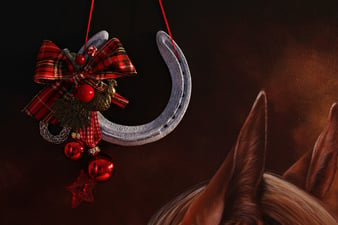 But horse cookie decorations still twinkled about.
The barn work for the night was all done,
It was time to get ready for tomorrow's sun.
I in my yoga pants and my dog at my feet,
Had just closed my eyes to try to get some sleep.
When out in the barn there started such a racket
That I jumped into my boots and pulled on my jacket.
We ran to the barn as fast as we could,
Because the sound sounded a lot like breaking wood.
The barn light out front made things as bright as day,
But when I looked down the aisle I was filled with dismay.
Well, what to my sleepy eyes should I see?
But a big chestnut mare who tipped over the barn Christmas tree.
Her eyes, they flashed and her nostrils, they flared,
And her huge white teeth were already bared.
She grabbed all the carrots and gobbled half the cookies,
Kicked in the grain room door and ate all those goodies.
She got into the hay barn and pulled open several bales,
Opened all the stall doors and galloped toward the trails.
The horses were loose! I knew I'd get the blame,
So I whistled and shouted and called them by name.
"Come Blazer, here Indy, stop Wizard, come Guy,
Whoa Stormy, stay DJ," I yelled to the sky.
Slowly the horses broke away from the mare's spell,
And returned to their stalls and again all was well.
The mare stomped her foot and asked "why did you appear?"
"If it wasn't for you, I could have blamed it all on Santa's reindeer!"
She neighed to the horses to wish them good cheer,
Then galloped across the pastures as fleet as any deer.
When she reached a hill, she turned back as if to say,
"Merry Christmas to all, and to all a good day!"
I sighed as I went back inside,
I knew I'd survived a big scare.
"I'd rather have coal for Christmas
Then ever have another chestnut mare."
Written by Kelly O'Neill, based on "A Visit From St. Nicholas" by Clement Clark Moore