Are your paddocks or barn entrances a muddy mess? Do you have horses who dig holes in their stalls? Do you have trouble maintaining your dirt barn aisle? All of these are common issues for barn owners and can be solved with the Classic Equine Equipment's Stable-ity Grid.
The Stable-ity Grid consists of durable interlocking grids that can make a huge difference in footing issues. Each grid measures approximately 24"x24"x1", and once interlocked, Stable-ity Grids can be used across wide areas.
Install the Stable-ity Grid by placing the grid over a level base of rock. Then backfill the grid with fine material, such as sand or bluestone. You might also choose to use road cloth as as first layer in areas with serious mud problems.
With the Stable-ity Grid is in place, your problems virtually disappear! The grid helps to drain away excess water, transforming typically wet areas into mud-free footing. The Grid is super strong and can withstand heavy loads and won't shift underfoot.
Here are a few ways that you can put the Stable-ity Grid to work at your barn:

Pastures
Install the Stable-ity Grid in the muddiest areas of your horse pasture. Installing the grid by your horse's water trough or feeding area can help to reduce mud. Installing the grid in the heavily trafficked gate area significantly reduces mud and can lead to improved footing.
Barn Aisles
Tired of always filling in ruts in your dirt barn aisle? Installing the Stable-ity Grid can help eliminate ruts that often occur. This can save the time and expense of heavy maintenance on your barn aisle.
Stalls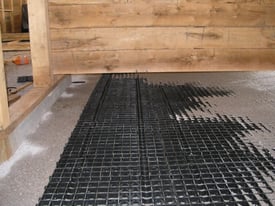 Do you have horses who paw or dig down into the base of their stalls? Determined horses can cause holes on a daily basis, mixing the stall base into the shavings and making a mess that's difficult to deal with. Stable-ity Grids can put an end to this issue, creating a definite base to your stall that horses can't paw down through. All in all, Stable-ity Grids can make your barn and property care and maintenance much easier. Contact us if you'd like to learn more about Stable-ity Grids or any of the other products that we offer!