Let's be honest, college is hard. Especially if you are moving away from the comfort of your home and family for the first time. With the significant time and financial demands of college owning a horse may be a bigger challenge than you want at this time. Luckily, you don't necessarily have to own a horse in college to keep riding. Here are some suggestions that allow you to keep riding while you're in school.Join a College Riding Team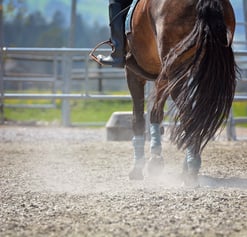 If your college has an equestrian team one of the easiest solutions to riding is to join your college's team. While every college team is run differently, typically you will have a lesson at least once a week. The college may have riding facilities on campus, or you might need to travel off site. In being part of the team you will meet fellow riders, form new friendships and compete during the school year.
You may have to pay in order to be a part of your college's riding team, and depending on your college, you may have to tryout in order to make the team. Many colleges offer teams at varying levels so you can find the riding level that is right for you. Some teams have additional requirements, such as doing barn chores or going to the gym a certain number of times per week. It is best to consult with your college team's director to decide if riding on the team is right for you.
Volunteer at a Barn
Volunteering is a great way to earn yourself some time in the saddle, especially if your funds are limited while in college. Approach some local barns to see if they are in need of stall cleaning or other barn chores. Many barns or horse owners will be happy to let you ride in exchange for helping around the barn.
Lease a Horse
If you are able to afford it, leasing a horse during college will keep you riding regularly while allowing you to maintain a relationship with a single horse. If you are looking to lease a horse, make sure that the horse you choose is appropriate for your riding experience and confidence level.
Take Lessons
Taking regular riding lessons can ensure that you keep advancing as a rider during college, even if you're not able to ride on a team or lease a horse. Taking lessons can be highly beneficial because you will ride a variety of horses and are sure to learn something new from every trainer you work with.
While owning a horse in college may not be a practical option for everyone, it doesn't mean that you have to stop riding while you're in college. There are plenty of ways to ride without owning a horse.