Riding in the cold is a challenge. You're freezing as you begin riding, then overheated as you start your exercises, then cold again as you untack your horse. How to dress for these fluctuating temperatures? Wear layers that you can add and remove as needed. But make sure they are the right type of layers.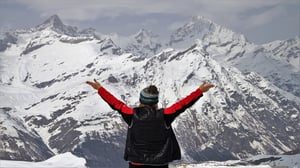 Layering has long been used by cross-country skiers and cold weather runners and hikers. Now you can learn the secret of effective layering. And you can find most of what you need at your local outdoor store.
The base layer:
Your initial inclination will be to grab a long sleeve cotton T-shirt as a base layer, but this is the worst choice. As you heat up, you may begin to sweat and cotton does not dry easily and can cause you to become chilled. You need to start with a layer that wicks perspiration away from your skin and into outer layers. You have a wide range of fabric options, including synthetics like polyester and nylon, or natural fibers like merino wool and silk.
The middle layer:
Your middle layer is for insulation, to retain body heat and protect you from the cold. Most common choices is a polyester fleece pullover, especially one with an adjustable quarter zip neck. Fleece breathes well, so you're less likely to overheat in it. Fleece stays warm even when damp, and dries fast. The one thing fleece fails at is wind protection so you will also need an outer layer.
The outer layer: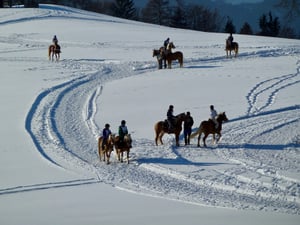 Top everything off with a jacket insulated down or with a synthetic fill. The advantage of synthetic is that it still insulates even when wet, although many down jackets now come in water resistant shells.
Depending on your climate, you may want to select heavier or wool socks, long underwear bottoms and heavier or fleece riding pants. There are also riding boots designed for cold and wet weather.
Add a ski hat or earmuffs under you helmet and switch to winter weight riding gloves and you are good to go.
Because I ride in an indoor arena in the winter, I take a down vest into the arena and leave it on a railing. Once I'm warmed up, I swap out my down jacket for my down vest and I'm comfortable the rest of the ride. Once I'm done riding, I add back my jacket.
While there are numerous manufacturers of fabulous riding wear for winter, I've found everything I need at Lands' End. I love that everything comes in regular, tall, petite and plus sizes - and they often have great sales. My winter "riding boots" are insulated and waterproof and come from L.L.Bean. And I can use everything I ride in for winter hiking and cross-country skiing!
Want to stay warmer riding this winter? There's still time to get some of these "must haves" onto your Christmas wish list.