It's about that time of year. Days are starting to get darker sooner. In order to get all your riding, horse care and barn work done, it's a good idea to start looking at ways to add more light to your barn. I mistakenly waited a few months before adding lights to my new barn and remember wrapping my horse's abscessed hoof with a flashlight in my mouth.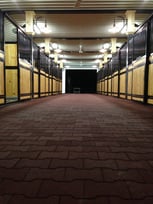 Big barn exteriors require big lights – standard residential type lights are typically too small and do not provide enough light. Make sure to place fixtures where they won't create shadows for your horse when he enters his stall.
Use lights in strategic places to help with barn security. Install security lights outside entrances. Either leave them on from dusk to dawn or install motion detection lights to alert you of intruders. Remember, however, that motion sensors can be tripped by your barn cat or other animals.
In order that your lighting be safe, electrical wiring in the barn should be housed in metal or hard plastic conduit since rodents may chew unprotected wires, creating a fire hazard. Metal conduit can be used, but has the tendency to rust. Locate switches so lights can be turned on and off at two convenient locations, usually at either end of the barn. Light switches should be four feet up from the floor (or as required by code).
Classic Equine Equipment has a variety of barn lighting for both indoor and outdoor use. Visit our website or request a catalog for more information on our products.