It's important to know how much snow your barn, especially the roof, can handle. Do your research and find out your local snow-load requirements. These requirements are based on the climate and past snowfall, and can better inform you about the conditions that your barn will need to be able to withstand. While it's a good idea for your barn to meet these requirements, it's an even better idea to make your barn stronger and able to withstand more rigorous requirements, just in case.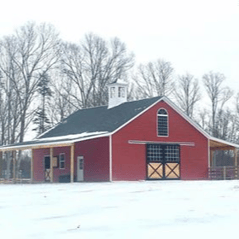 If you want to avoid snow sitting on your barn's roof for long periods, then opt for a metal roof instead of a shingled roof. Snow melts off a metal roof faster, reducing the amount of time that your barn will need to support the full weight of a snowstorm. Additionally, make sure that your roof is properly pitched to encourage the snow to slide off.
Adding extra bracing can further strengthen your barn so that it is able to withstand a major storm, or a series of storms. Consult with an engineer to determine what types of bracing would be most beneficial. Use machine stress-rated lumber, machine tested to indicate its true strength, to avoid weak spots.
Finally, don't forget to check on proper drainage around your barn to help direct snow runoff away from the foundation. Use gutters and drain pipes to move water away. If runoff water is allowed to pool around your barn, it can eventually affect the stability of your barn's foundation.