Caring for older horses can be different than regular horse care, which is why it's important to learn what older horses need and to find a boarding facility who is willing to meet those special needs. For example, most senior horses don't process their feed as well as they did when younger. Typically older horses are on a senior feed and many facilities buy their feed in bulk so if you want something different, ask if you will need to provide it yourself.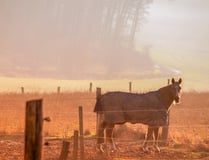 Older horses are more susceptible to cold and wet so while younger horses can get along just fine without blankets, it's important to make sure older horses are protected from the elements. Older horses tend to have arthritis so they are unable to move around as often to generate their own heat. Therefore, they burn calories to keep warm often resulting in weight loss. This makes blanketing very important in older horses so don't forget to ask about fees for blanketing.
Most people looking at retirement boarding facilities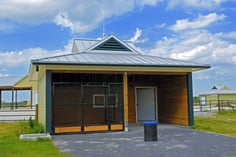 want their horses to be out as much as possible to "just be a horse". Will there be daily turnout? Will they be in a stall at night or in inclement weather? Or will they live in the pasture with run-in sheds? When/where will they be fed? In a herd situation, seniors are sometimes low in the pecking order and may not get all the food they require. These are all questions to consider during your horses retirement.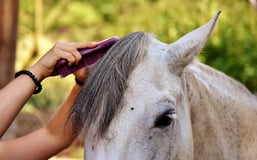 Because retirement boarding is not a "money maker", facilities that specialize in senior care may be quite a distance from where you live. Because of this, retirement facilities often assume the total care of your horse, including providing medications or supplements, checking vitals, grooming, deworming, and routine vet and farrier care. Ask what is covered in the monthly fee or what may be considered an "add on" charge.
If you plan to still be a part of your horse's life, check out what facilities you can use. A busy training barn might not give you much relaxing time with your horse while one with pasture or trails for riding might be a perfect way to enjoy your horse's golden years.