If you feed your horses grain or give them treats, chances are you have unwanted visitors coming into your barn, namely mice. There are special feeders that help keep grain in your horse's bucket during feeding, but most horses tend to drop grain on their stall floor when eating. And that grain is a perfect way to get mice in your barn. In addition to an almost constant food supply, most barns are quiet with piles of hay to hide and keep warm in.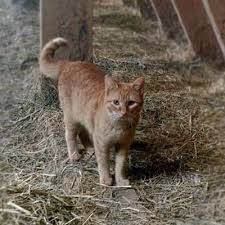 There are numer

ous ways to get rid of mice after they've moved in. But ultrasonic devices, traps and poison all carry a risk of injury or death to other animals, especially dogs. So, if you are looking for a low-tech and low-cost way to eliminate mice, consider getting a barn cat – or two.
Cats looking for a home are easily found at animal shelters, rescue organizations or humane societies. Most will already have been spayed/neutered, microchipped and are up to date on their shots. Cost is relatively low, depending on the age and breed of the cat. And with spring being "kitten time," there's usually a wide variety to choose from.
There are usually two types of cats that end up at a shelter – cats that have been surrendered or were found wandering the street and feral cats. Feral cats are those cats that have had little or no human contact. You might find a feral cat is already living in your barn. If you have a feral cat around, it is best to take them to a humane society. In Portland, OR, we have the Feral Cat Coalition to help with the cat population. They will give you a humane trap and instructions on how to catch them (it's really not hard). When you bring them in, they will do a physical exam, see if there is a microchip (if not, they will give them one) and perform a spay/neuter. If you don't want the cat, they will try to socialize it and then place it up for adoption.
If they don't respond well to socialization, they are still considered feral cats and are usually indicated as a "barn cat only." And are available for an even lower cost for adoption. If you would like the cat returned to you, simply let them know and you will pay a nominal fee for the services they have provided. While any cat can be a barn cat, feral cats usually are already used to living in a barn, shed or other outside covered area and will acclimate quickly to your barn.
Horses and cats get along quite well together. Barn cats are usually more than happy to do the job of c controlling the mouse population in return for a warm, dry place to sleep. However, these cats should not be expected to live on only what they catch. This does not make them a "better" mouser. They should also receive a daily ration of high-qualit
y cat food to keep them at their healthiest, and, of course, plenty of fresh, clean water. They will still need to have routine cat care such as vaccinations or in case of injury. Finally, cats who are designated as positive for feline leukemia (FeLV) should not be kept as outside cats. FeLV is passed from one cat to another through saliva, blood, and to some extent, urine and feces.
If you are bringing a new cat (or cats) home for barn patrol, it can take them a bit of time to become thoroughly comfortable. Remember, cats are very territorial and if you simply place them in a new location, they will try to find their way back to where they came from, often injuring themselves in the process. Instead:
Place the cat in a large cage or kennel within the building they will be calling home. Give the cat a small towel lined carrier with the door held open with a small bungee cord, food and water, and a litter box. Make sure to give fresh food and water daily.
After 2-3 weeks, you can open the cage door. Food and water should be kept both inside and outside of the cage. This will give them the option to go back in the crate at night or stay outside on patrol.
After two more weeks, the cats should be comfortable in their new home and the cage can be taken away.
If you have a mouse problem at your barn, consider adopting a barn cat. You get rid of the mice and the cat gets a new home. It's a win-win situation - for everyone but the mouse….
Photo Credits: americanwelfaresociety.org