With fall weather comes hunting season. Whether you're heading out for a trail ride or turning your horses out in adjoining woods, you need to be aware and take a few precautions. Here are some tips to help keep you and your horses safe!
Identify Your Property Perimeter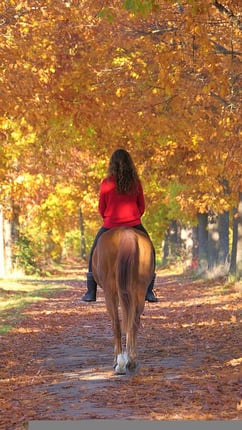 If your property is bordered by woods where hunting is permitted, then it's important to make sure that your property's perimeter is clearly marked. Put up signs along the perimeter to identify your property as private property, and make sure that any border fencing is clearly visible. When choosing the signs that you'll put up, look for large signs that are easily visible, even in the shade of the woods. Adding blaze orange tape to trees around the perimeter can help to clearly identify your property as a developed area where hunting is not allowed.
Learn When Local Hunting Seasons Take Place
Familiarizing yourself with when hunting seasons take place can help you be prepared for, and safe, during those times. Your state's Department of Natural Resources should be able to provide you with information about what types of hunting is allowed in your area and when the hunting may take place. Once you have those dates, it's a good idea to post them on a calendar in your barn so that everyone is aware. To be extra safe, only head out on the trails on days when hunting is prohibited.
Use Blaze Orange Sheets on Horses in Turnout
If your horse pastures are bordered by woods, and it's possible that hunters may get up close to the pastures, then put blaze orange sheets on any horse that you turn out in the pasture. While the chances of a hunter mistaking your horse for a deer are slim, it's better to be over cautious than risk a tragic mistake!
If you have the option to not use the outer pastures during hunting season, then do so. Instead, keep your horses in pastures which are close to the barn.
Stay on Trails and Wear Orange
Make sure you stick to only identified trails – don't stray off into the woods. Wear a blaze orange vest or sweatshirt, orange saddle pad, orange polo raps – you can never have too much orange! And put a bell on your horse's saddle to alert hunters of your approach. Remember, too, that if you ride with your dog, make sure your pup has on an orange vest and bell as well.
If you should have a negative encounter with a hunter, either while you're out trail riding or on your own property, report the incident to the police. Formally reporting the incident will start a paper trail, which can be useful if you encounter further trouble.
A little planning can ensure that both you and your horses stay safe during hunting season!