Thrush, a disease of the horse's frog and other tissues of the hoof, has a very strong odor that comes from dead, rotting tissue and usually a dark-colored slimy substance along the edge of the frog. A case of thrush is not life-threatening, but left untreated the infection can spread to under the sole and penetrate the soft tissue of the hoof, including the laminae.
Winter is one of thrush's favorite times of year because it thrives in wet, dirty bedding and areas where mud, mixed with manure, is found. It's much better to take steps to prevent thrush rather than deal with the treatment by keeping your horse on dry, clean ground as much as possible.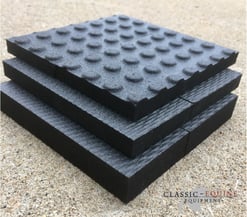 One way is to use Classic Equine Equipment's stall mats under your bedding to help keep the stall dry. Stall mats can also be used in paddocks or in entry areas to the barn or stall. Instead of walking in the mud, your horse can step on the clean and dry stall mat.
When considering footing for an outdoor arena, many people select wood bark chips or other wood byproducts. Even certain types of footing like shredded wood can cause problems – as the wood breaks down, its acidity mixes with the pH of the soil and that can encourage bacteria to grow. Add water and you have a recipe for thrush.
Creating mud free turnouts is also important.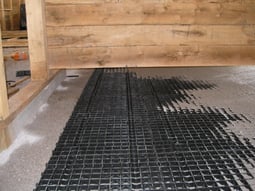 Despite the weather, horses seem to be happiest when outside so will spend time in their paddocks even in the rain and snow. This leads to mud and manure becoming mixed – a perfect breeding ground for thrush. Consider using Classic Equine Equipment's Stable-ity Grid, an interlocking grid like flooring system. Adding your gravel or other material on top of the Stable-ity Grid keeps it from mixing with the dirt below and ultimately becoming a wet dirt-gravel (and sometimes manure) mess.
Treatment for thrush usually includes a visit from the vet to cut away as much dead tissue as possible and kill organisms that may cause an infection. They can also help you determine a treatment plan, including what thrush treatment product to use. Use the solution liberally, but carefully as it can stain your hands and clothes.
Prevention is the key to avoiding thrush this season by creating dry and mud-free areas for your horse. And Classic Equine Equipment can help.