If you are a boarding stable and considering adding retirement care to your options, or if your horse is ready for retirement, there are a few things you may want to consider at your barn and in your care routine to make them more comfortable in their "golden years."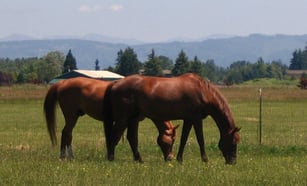 As more horses are living longer and healthier lives, more horse owners are looking for viable options when it's time for them to retire. If you have the room, adding retirement boarding is a great way to add to your boarding revenue stream. However, in many cases, you will be assuming total care and responsibility for those horses so be sure you are ready for this work load.
Not all retirees are older horses, but the majority of them are. Be sure you are prepared to take care of senior horses. While many horses do well on pasture alone, older horses, especially those with dental problems or those who have trouble keeping on weight may need to be supplemented with additional nutrition, e.g. grain or senior feed, or additional hay. Often barns buy hay and feed in bulk and they are usually geared towards younger horses. Older horses can require special senior feed and hay may need to be soaked before feeding to help older horses chew.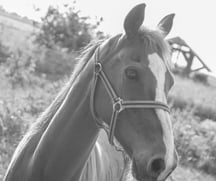 Retirement barn managers need to make sure that horses are inspected on a daily basis, groomed, dewormed, have their feet trimmed, etc. These services are usually included in the monthly feed and board. You can also provide additional services such as blanketing, bathing and giving supplements. Most owners who are retiring their horses are looking for a placewhere they can "be horses." This usually means optimum turnout time and interaction with compatible horses. Older horses do well in pasture situations as long as they have access to a shelter from the wind and rain.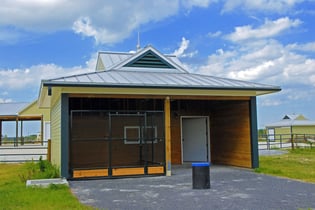 Classic equine Equipment stall fronts and partitions work just as well in shelters as they do in barns. This provides you the opportunity to separate the horses at feeding time or isolate one of the horses should they become ill. The American Association of Equine Practitioners has guidelines for retirement facilities. These include a shelter with soft, dry footing on which the horse can stand or lie down. Putting stall mats in shelters will keep the floors dry and mud free, provide a soft layer for standing or napping, and make for an easier cleanup.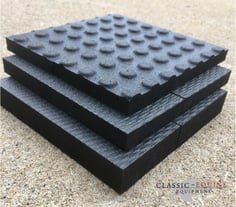 Another option for retirement horses is turn out time during the day, and brought back into the barn for feedings and at night. This allows horses the needed exercise to help with joint movement, but also allows them to eat and sleep in peace without the intrusion of other, more dominant horses. Because movement has such a positive effect on keeping joints lubricated and avoiding stiffness, the largest stalls possible or a stall with a mud-free turnout should be available for horses kept inside part of the time.
Like caring for other horses, strong, safe fencing, pasture management and mud and manure elimination are the keys to a happy, healthy horse.
For more information from the American Association of Equine Practitioners, click HERE to download a copy of their "AAEP Care Guidelines for Equine Rescue and Retirement Facilities."
For more information click here
Photo Credits: Canva/Classic Equine