The most common use of bedding for stalls is to absorb urine and make cleaning manure easier in your horse's stalls. Shavings is the most common material used. It will absorb the urine and often help with odor control. However, be careful when you select your shavings – e.g. black walnut shavings can be dangerous to your horse.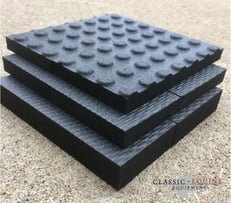 If you plan to use bedding to help protect your horse's legs and give him a soft spot to stand or lay, consider using
stall mats
(like those offered by
Classic Equine Equipment
). This can help reduce the amount of shavings you use and give your horse another layer of comfort. Bedding made from shavings requires a large, covered area to keep them from flying around and/or getting wet.
It's important to develop a good mucking routine when cleaning stalls. By teaching workers to only pick up manure and soiled bedding, you can make all products last longer. In addition, consider where you put your shavings. If you spread them all over the stall, even under the water and feed buckets, you are probably wasting your bedding. Some horses have favorite spots where they urinate – make sure to bed more heavily there and skip areas where your horse doesn't linger.
Once the bedding has been soiled, you will, of course, have to get rid of it. Learn about the benefits of composting your manure and shavings. We'll cover the basics next week.