Once you select the style of barn you want, you need to decide on the type of construction. Some things to consider are climate challenges, budget and the amount of time you can wait for your new barn to be finished. For example, a modular barn can be erected in a few days, while a pole barn building can take months.
MODULAR BARN
Modular barns generally consist of a steel framework with steel-framed panels fitted in between. The panels are typically comprised of a plywood or OSB (oriented strand board) core with sheet steel laminated to the inside surface and steel, wood or other siding material laminated to the outside surface. An advantage of this framing is that any damaged panels can be replaced relatively easily. They are especially fire resistant because of the steel framing and steel-skinned wall panels. They tend to be less expensive, but with fewer options than a custom barn.
POLE BARN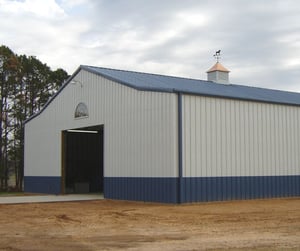 A Pole Barn (Post Frame) uses posts and beams to minimize the number of framing elements in walls. It is economical, strong and relatively simple to build, making it the most popular framing method for custom barns. A pole barn frame consists of 6- to 8-inch round or rectangular pressure-treated wood posts set 3 to 6 feet below the ground. Poles and trusses or rafters are generally visible inside the barn. Pole barns are easy to build in part because they require no trench work for a foundation, only holes; and these can be dug using a tractor auger or a hand posthole digger.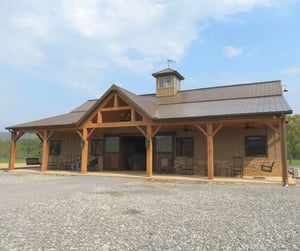 POST AND BEAM BARN
Rather than the posts plugging into the ground like a pole barn, a Post and Beam (Timber Frame) barn is set on a concrete foundation, making it incredibly sturdy. It is typically comprised of 8- and 10-inch square timbers for main members and smaller timbers for roof and floor joists. Many are built using methods for making fine furniture, but on a larger scale. These barns are usually built using traditional timber frame methods without nails or other metal fasteners unless they are required by local codes. Timber frame kits that use metal connectors to secure joints are available.
Working with an equine architect can help you select the best type of barn construction to bring your dream barn to life.