Your horse is one of your most prized possessions, with your tack and equipment a close second. One of the easiest ways to make sure your barn is free of areas or items that could cause harm or injury to a horse or owner is to have a good safety plan in effect. Routinely check your barn with a critical eye to make sure you are following your plan.
FIRE


-Do you have "No Smoking" signs posted? Are they enforced?
-Are debris, combustible material and weeds cleared at least 30 feet from structures for fire protection?
-Are fire extinguishers in working order? Place fire extinguishers in all buildings. In large facilities, place fire extinguishers every 40 ft.
-Inspect all wiring. Older wiring may have damage from weather or rodents.
-Check all electrical cords. Appliances and equipment should be unplugged when not in use.
-Are there cobwebs and dust accumulating behind refrigerators and other appliance, around lights, near electrical sources? If so, clean the area.
-When possible, hay and shavings should be stored in a separate building. Storing hay in a well ventilated loft is preferable to the floor. If you store hay on the floor, place it on pallets as far from stalls as possible. Keep the areas clean and swept.
-Replace vegetation with fire resistant plants – NOTE: FIRE RESISTANT DOES NOT MEAN FIREPROOF! Fire resistant plants do not readily ignite from a flame.
SAFETY

-Are emergency numbers and information posted near the phone or in the barn aisle? Is the information up-to-date?
-Do boarding facilities should have safety rules clearly posted?
-Are aisle ways clear of clutter? Any items stored in the aisles should be placed on hooks high enough that a panicked horse will not injure himself. Tack boxes and other items on the floor should not prevent stall doors from opening. Be sure rakes, manure forks and other barn implements are safely put away.
-Check stalls for damage to wood surfaces, broken or cracked feeders, protruding nails, etc.
-Check the floors for damage or uneven surfaces.
-Look around the bottom of stalls for areas that may be hazardous when a horse rolls.
-Check latches and door knobs. Are they in good working order? Could a horse escape? Do they pose a hazard? Will tack or horses be hung up on them?
-Check floors for standing water, slick surfaces and uneven areas.
-Use safe fencing and keep it well maintained.
-Check first aid and emergency supply kits. Do you need to replenish supplies? Throw away expired over the counter and prescription medications and replace as needed.
SECURITY

-Use gate access to your farm. Classic Equine Equipment designs and manufactures Custom Entrance Gates to fit all spaces and requirements - whether farm, residential or commercial. All gates are made with the same high quality steel and attention to detail as our horse stalls. We can provide automatic gate openers as well for a complete entrance system. Require a pass code to access the property.
-Control access through doors – feed, tack rooms and other high security areas can have locks on doors requiring a key or code to enter. Change the lock or code every so often, especially if you have boarders and one of them leaves.
-Use window grills to discourage entrance by crawling through them. Consider installing a security system on outside doors and windows.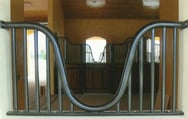 -Install security lights at farm entrance and around barn doors. Either leave them on from dusk to dawn or install motion detection lights to alert you to intruders.
-Keep bushes and plants trimmed around windows and doorways. These can be inviting places for an intruder to hide.
-Use technology - stall cameras can be mounted in each stall allowing each owner to monitor their horse at any time through the website using a security code.
Following these steps can insure peace of mind while you're away.