Whether you are interested in showing your horse or marketing your barn to trainers and competitive riders, there are a number of things that every show barn should have. You will most definitely want the best accessories and features to appeal to your clients and trainers. -Don't forget about these must-have accessories for your show barn.
Elegant Saddle and Bridle Racks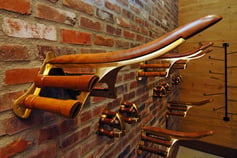 Outfitting your tack room with elegant saddle and bridle racks can create a luxurious, impressive atmosphere. Quality saddle racks will protect and beautifully display your tack, while organizing your tack room at the same time.
Ultimate Tack System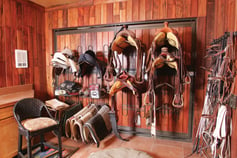 When you're trying to organize the tack and supplies of multiple clients and horses, the Ultimate Tack System can make a huge difference in your tack room. The Ultimate Tack System gives you a place to put everything, from saddle blankets and saddle pads to boots, spray bottles, and other equipment. You won't ever have to search for your supplies again.
Round Pen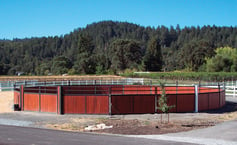 Installing a round pen on your property is a great way to advance the training of both horses and riders. Round pens are excellent tools for starting young show horses, but they're also great for training riders and giving advanced horses refresher courses. You might also use your round pen as a limited turnout space for horses recovering from injuries.
Indoor Riding Arena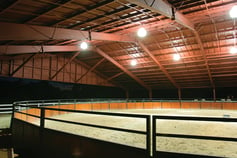 If you live in an area with a harsh winter climate, then an indoor riding arena is an absolute must for your show barn. An indoor riding arena can allow you to train year-round, giving you an advantage and making you more competitive in the show ring come spring.
Entrance gate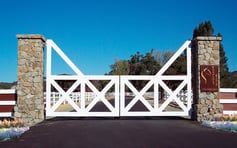 An entrance gate is a great way to establish your show barn's first impression on clients and visitors. Entrance gates are also an important safety feature, keeping uninvited visitors off your property while helping to contain horses in the event that they ever get loose. Classic Equine Equipment designs and manufactures custom entrance gates to suit all needs. Designing your entrance gate is the perfect way to complete the outfitting of your show barn, while creating an unforgettable first impression.
We would love to help you outfit your show barn – contact us to discuss your barn needs and we will do our best to fulfill them.